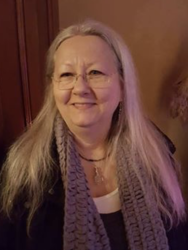 CLASS:

($20)
Channeling Entities or Your Higher Self

(2hr)
Instructor:
Sharon "AurorA" Lewis
Riverside B
Saturday, March 28th, 2020
12:00pm-2:00pm
Before purchasing tickets for Classes, Evening Shows or Ghost Tours, we highly recommend that you make a plan by looking at the 2020 Schedule so you can decide how you want to spend your time. Decide what classes you are interested in taking and add up the total class hours. If you have a total of more than 5 or 6 class hours and you are also considering attending the Evening Shows or Ghost Tours, you should consider buying a FIRST CLASS PASS instead of Individual Tickets.
If you decide instead to purchase individual tickets to each class or event, you will also need to purchase a General Admission Ticket. General Admission Tickets can be purchased through our Online Box Office or at the Oregon Ghost Conference Box Office at the Seaside Civic and Convention Center, March 27th-29th.
Individual tickets are available from each class or event page and can be accessed through the 2020 Schedule. Buy individual tickets to this class below:
Online Ticket Sales will end on March 20th, 2020 at Midnight!
2hr Class Registration: $20.00
*INDIVIDUAL TICKETS WILL BE AVAILABLE FOR PICK UP AT THE BOX OFFICE ON-SITE AT THE SEASIDE CIVIC & CONVENTION CENTER IN SEASIDE, MARCH 27TH-29TH, UNDER THE NAME OF THE PERSON WHO PURCHASED THEM.
TICKETS WILL NOT BE SENT TO CUSTOMER. NO REFUNDS FOR TICKETS PURCHASED ONLINE.
Class Description:
Channeling entities, spirits, or your higher self has been done for many centuries with fascinating experiences, results, and interesting information coming through. In past centuries, many of the Kings and high-powered leaders had sages, seers, and prophets close by for guidance. Many of these were channels.
Edgar Cayce was one of the notable channels in turn of the century America and was known as the sleeping prophet. Today, you have Esther Hicks and Bashar, among others, who channel and answer questions brought by their audiences. Some have channeled books, like Barbara Marciniak who channeled books about Pleiadians and their relationship with Earth. In the paranormal world, mediums have channeled spirits or connected telepathically for centuries as well. From these experiences, many have obtained needed information, helping both spirit and human, and families have received closure. Channeling is an ability and skill that many can learn.
Class Outcome:
In this class you will learn about the different types of channeling , the different levels of trances, how to attract a high level guide or to connect to your higher self, how to connect telepathically with spirits, how guides or your higher self communicates with you, and how to channel safely. There will be time in this class to practice channeling in a safe environment.