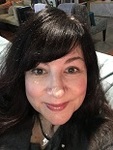 CLASS:
Crystals for Healing

(2hr)
Instructor:
Karen Frazier
Sunday, March 25, 2018
Noon - 2:00pm
ONLINE TICKET SALES HAVE ENDED: Tickets for classes and events will be for sale at the Box Office at the Seaside Civic and Convention Center during the event, (March 23-25, 2018) during Box Office Hours. Some classes and events are SOLD OUT. Check the Box Office Page to see the availability of tickets.
2hr Class Registration: $20.00
*INDIVIDUAL TICKETS WILL BE AVAILABLE FOR PICK UP AT THE BOX OFFICE ON-SITE, UNDER THE NAME OF THE PERSON WHO PURCHASED THEM. TICKETS WILL NOT BE SENT TO CUSTOMER.
Class Description:
A 2-hour class about crystal basics, including crystal prescriptions, grids, uses, and more.
Class Outcome:
Attendees will have a better understanding of how to incorporate crystals into their lives.