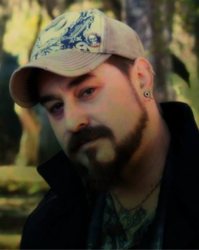 Class Description:
The basics in ghost hunting with a scientific angle, best tools to use, how to conduct EVP sessions and more.
Class Outcome:
Attendees will learn the importance of journaling, using equipment correctly and how to conduct EVP sessions. Class will also focus on why it's important to not use the paranormal to prove the paranormal.
CLASS:
Ghostology 101

(2hr)
Instructor:
Ross Allison
Friday, March 23, 2018
5:00 - 7:00pm
ONLINE TICKET SALES HAVE ENDED: Tickets for classes and events will be for sale at the Box Office at the Seaside Civic and Convention Center during the event, (March 23-25, 2018) during Box Office Hours. Some classes and events are SOLD OUT. Check the Box Office Page to see the availability of tickets.
2hr Class Registration: $20.00
*INDIVIDUAL TICKETS WILL BE AVAILABLE FOR PICK UP AT THE BOX OFFICE ON-SITE, UNDER THE NAME OF THE PERSON WHO PURCHASED THEM. TICKETS WILL NOT BE SENT TO CUSTOMER.