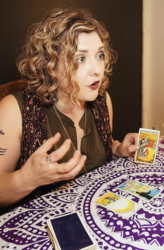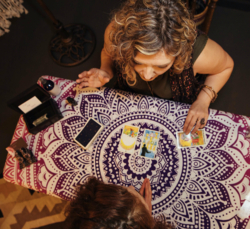 Holly Cole
SPEAKER:

Tarot Case Studies
Holly Cole has been doing Tarot for over ten years and teaching Tarot for the last four years. An empath and naturally intuitive healer, she has used Tarot to connect with and heal others whenever she can. She is a student and/or practitioner of Reiki, Palmistry, Astrology, Numerology, Spirit Communication, Shamanism (and many more metaphysical modalities) and considers herself a life-long learner. She is also an avid runner, language enthusiast, writer, singer, songwriter, guitarist, and musician. She is currently performing in and around Portland in 4 bands doing Rock, Hip-Hop, Blues, and Jazz, as well as her own solo acoustic music.
SPEAKER TOPIC:
Tarot Case Studies
MAIN STAGE:
Sunday, March 29th @ 10am
Curious about what Tarot is exactly and how it works? Join long time Oregon Ghost conference participant Holly Cole of Crystal Seed Tarot in her discussion on Tarot Case Studies. With over a decade of experience in giving spot-on Tarot readings, she has seen some wild and crazy things happen through the cards. In this talk, she'll share some of her favorite reading experiences with you. What was said in the reading and the way it actually happened in life can leave you speechless! Hear some incredibly personal stories from actual readings; tales of bad relationships, newfound freedom, and even murder.