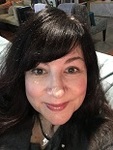 Karen Frazier
Karen Frazier is the author of five paranormal/metaphysical books: Avalanche of Spirits: The Ghosts of Wellington, Dancing with the Afterlife, Pioneer Spirits: Investigating the Haunted Lewis County Historical Museum, and Crystals for Healing. She also co-wrote Lessons of Many Lives with hypnotherapist Melissa Watts.
As a professional writer, Karen has ghost written a number of books and penned hundreds of articles about a variety of topics. She's also a published author in Chicken Soup for the Soul: Find Your Inner Strength! and Chicken Soup for the Soul: Think Possible!
Karen is a columnist for Paranormal Underground Magazine. She currently writes two columns for the magazine: Dream Interpretation and Metaphysics and Energy Healing. For more than seven years, Karen was also the co-host of Paranormal Underground Radio In the Dark, and she formerly served as Paranormal Underground's Managing Editor. Karen is also a member of Spirit Healing and Resolution (SHARe), a collective of psychic mediums and energy healers dedicated to helping people dealing with afterlife experiences and hauntings, as well as offering spiritual coaching and energy healing services.

Karen is an intuitive energy healer who is a Usui Reiki Ryoho Master/Teacher (Shinpiden) and a certified animal Usui Reiki Ryoho practitioner, as well as an ordained minister for the International Metaphysical Ministry. She has also studied numerous energy and alternative healing techniques including quantum touch, aromatherapy, sound healing, metaphysical healing, and crystal healing. She holds a Bachelor of Metaphysical Science (B.MSc) and a Masters of Metaphysical Science (M.MSc) from University of Metaphysics and a PhD in Metaphysical Parapsychology from the University of Sedona. She is currently working towards her Doctor of Divinity (DD) specializing in Spiritual Healing at University of Metaphysics. Karen also holds certificates in Life Coaching and Life Purpose Coaching.