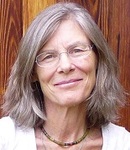 Kathleen Dudley
Kathleen Dudley is a certified reflexologist, herbalist and palm reader who engages in wholistic healing modalities to help people find their way to a more fully balanced, enlightened health through selfempowerment.
Understanding their life purpose through their signature hand markings, shapes, and through their birth numbers, Kathleen helps people see that their characteristics are not merely accidental, but unique and divinely personal to them. Kathleen helps people visualize their fullest selves. Along with reflexology, the pressure point healing modality on feet, hands, and face, she works with medicinal herbs to formulate healing teas to gently boost health for balancing kidneys, liver, lungs, etc.
Kathleen's studies began in her late teens when she began growing crops, including herbs, and her strong connection to the land its healing powers. She lived in the wilderness of NE New Mexico where she developed her skills while learning the wisdom of not only plants, but ancient healing techniques from curanderas and shamans. Today, she includes an wholistic approach to help bring about greater awareness of our individual gifts.