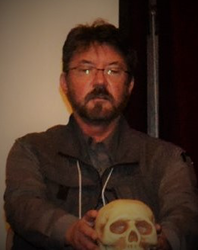 Michael H. White
SPEAKER:
It Tastes Like Paranormal, But It's Not!
CLASS INSTRUCTOR:
Telepathy Experiment: Modified Ganzfeld
Michael's interest in the paranormal began when he was 7 with his first paranormal encounter. His paranormal interests include research into hauntings, extrasensory perception, psychokinesis, out of body experiences, UFO's, and cryptozoology. Having served in the military for 21 years, Michael utilizes his experience with surveillance and data collection in the pursuit of researching the unknown.
Michael is the author of Chasing Thin Shadows: A Beginner's Guide to Paranormal Investigating and has published numerous experimental research results on paranormal phenomena. Michael has degrees in cognitive psychology and sociology.