Nicole Strickland
SPEAKER:
Current Trends in Paranormal Research
Nicole Strickland is a paranormal researcher, author, and public speaker currently residing in San Diego, California. She is the founder and director of the well-respected San Diego Paranormal Research Society (SDPRS) and co-host of the popular "Spirits of the Adobe" tours at the Rancho Buena Vista Adobe. She is known nationally and internationally for her research aboard the RMS Queen Mary. Nicole has appeared in numerous media outlets discussing various aspects of her research as a paranormal investigator, including spots in television, film, radio shows, and print media. The author of seven books, she is also a writer and correspondent to Paranormal Underground magazine. In her spare time, Nicole enjoys traveling, reading, and spending time with her family, friends, and two cats.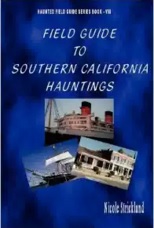 SPEAKER TOPIC:
Trends in Paranormal Research
MAIN STAGE:
Satur
day, March 30th @ 6pm
This presentation explores various trends in the field of paranormal research and investigation and their effects on the field at large. Discussed trends include technological advances / metaphysical instruments and their implications; spirit resolution vs. "para-tainment"; getting rid of "ego" and educational development. Those who fervently engage themselves in down-to-earth paranormal research, including proper protocol, standard operating procedures and empathy, are becoming more comfortable calling out those amateur groups of people who act in manners that disrespect the departed and the field at large. All in all, I do see more and more genuine, grounded paranormal research teams expanding their repertoire by helping the ethereal energies they investigate and commune with. In my opinion, this is vital in the rapport building between the living and departed – the ultimate, natural way to improve not only the paranormal research arena but how the public at large perceives it.