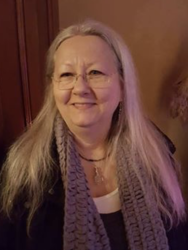 Class Description:
Remote viewing is not simply using psychic ability to obtain information. Studies have shown that many people can do this regardless of psychic abilities. There are different ways to remote view. One is the military way where there is strict scientific protocol…hence the STARGATE program. This protocol can help anyone to learn what the psychics do in a methodological way. There is also the more casual way that many of the psychics use in order to gain information needed. Either way, anyone can learn it regardless of abilities. It is great to use in ordinary life, and certainly to use for paranormal investigations. We will have practice remote viewing sessions in this class. Remote viewing is a fun and exciting practice to learn. Give it a try. You might surprise yourself.
Class Outcome:
You will learn the difference between the military way and a more casual way of remote viewing. You will learn how to set up practice sessions for yourself to keep improving. I will share my secrets on how to remote view as well.
CLASS:

($20)
Remote Viewing & the Paranormal

(2hr)
Instructor:
Sharon "AurorA" Lewis
Riverside B
Saturday, March 28th, 2020
9:00am-11:00am
Before purchasing tickets for Classes, Evening Shows or Ghost Tours, we highly recommend that you make a plan by looking at the 2020 Schedule so you can decide how you want to spend your time. Decide what classes you are interested in taking and add up the total class hours. If you have a total of more than 5 or 6 class hours and you are also considering attending the Evening Shows or Ghost Tours, you should consider buying a FIRST CLASS PASS instead of Individual Tickets.
If you decide instead to purchase individual tickets to each class or event, you will also need to purchase a General Admission Ticket. General Admission Tickets can be purchased through our Online Box Office or at the Oregon Ghost Conference Box Office at the Seaside Civic and Convention Center, March 27th-29th.
Individual tickets are available from each class or event page and can be accessed through the 2020 Schedule. Buy individual tickets to this class below:
Online Ticket Sales will end on March 20th, 2020 at Midnight!
2hr Class Registration: $20.00
*INDIVIDUAL TICKETS WILL BE AVAILABLE FOR PICK UP AT THE BOX OFFICE ON-SITE AT THE SEASIDE CIVIC & CONVENTION CENTER IN SEASIDE, MARCH 27TH-29TH, UNDER THE NAME OF THE PERSON WHO PURCHASED THEM.
TICKETS WILL NOT BE SENT TO CUSTOMER. NO REFUNDS FOR TICKETS PURCHASED ONLINE.