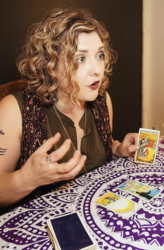 CLASS: Tarot 101 (1hr)

Instructor:
Holly Cole
Sunday, March 25, 2018
11:00am - Noon
ONLINE TICKET SALES HAVE ENDED: Tickets for classes and events will be for sale at the Box Office at the Seaside Civic and Convention Center during the event, (March 23-25, 2018) during Box Office Hours. Some classes and events are SOLD OUT. Check the Box Office Page to see the availability of tickets.
1hr Class Registration: $12.00
*INDIVIDUAL TICKETS WILL BE AVAILABLE FOR PICK UP AT THE BOX OFFICE ON-SITE, UNDER THE NAME OF THE PERSON WHO PURCHASED THEM. TICKETS WILL NOT BE SENT TO CUSTOMER.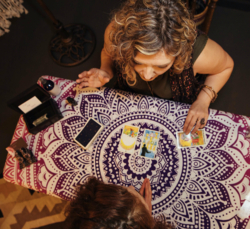 Class Description:
Students will be given an overview of what Tarot is and what it is comprised of. Tarot is an oracle of oracles, and learning to use the different 'systems' in Tarot is a great foundation to beginning to understand what each card means. In this first class, we will cover the different aspects of the Suits, Numerology, Astrology, Color Study/Chakras, The Court Cards, and some of the stories, myths, legends and symbolism included in the artwork.
Class Outcome:
Students will be able to glean information from any card, and will be given the resources to find more information for themselves to continue their studies. Students will be able to give themselves a 1 card reading and have a general understanding of how to interpret the cards.