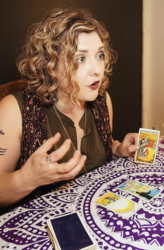 CLASS:
Tarot 201

(1hr)
Instructor:
Holly Cole
Sunday, March 25, 2018
2:00 - 3:00pm
ONLINE TICKET SALES HAVE ENDED: Tickets for classes and events will be for sale at the Box Office at the Seaside Civic and Convention Center during the event, (March 23-25, 2018) during Box Office Hours. Some classes and events are SOLD OUT. Check the Box Office Page to see the availability of tickets.
1hr Class Registration: $12.00
*INDIVIDUAL TICKETS WILL BE AVAILABLE FOR PICK UP AT THE BOX OFFICE ON-SITE, UNDER THE NAME OF THE PERSON WHO PURCHASED THEM. TICKETS WILL NOT BE SENT TO CUSTOMER.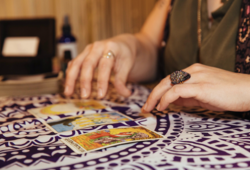 Class Description:
Students will expand on previous knowledge and learn how to give a 10 card spread "Celtic-Cross" reading. We will build an understanding of how lay-outs work and looking at "the bigger picture". Students will also start deciding how they want to form their 'practice', how to set the space and learn about the importance of consistency in readings.
Class Outcome:
Students will be able to give a 10 card reading and have a better understanding of what their role is as a Tarot reader. They will also be able to confidently and comfortably provide a good energetic space to perform a reading and have a better idea of how to navigate through certain difficulties one may encounter during a reading.