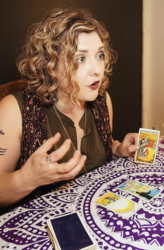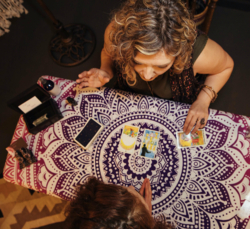 Class Description:
Ready to get weird? Good! In this class we'll cover the farther outreaches of giving a Tarot reading. We'll start to discuss patterns that may appear in a spread, how to give a Tarot reading to a child, what to do with difficult clients, how to relay sensitive information while still making the experience a positive one. We will also try our hands (pun intended) at giving a couple's reading by giving a Tarot reading to an real live couple!
Class Outcome:
Advanced students will expand on giving readings and gain more detailed knowledge, more advanced interpretation skills, have questions answered and get ideas for how to deal with difficult readings.
CLASS:
Tarot 301

(1hr)
Instructor:
Holly Cole
Sunday, March 24, 2018
3:00 - 4:00pm
ONLINE TICKET SALES HAVE ENDED: Tickets for classes and events will be for sale at the Box Office at the Seaside Civic and Convention Center during the event, (March 23-25, 2018) during Box Office Hours. Some classes and events are SOLD OUT. Check the Box Office Page to see the availability of tickets.
1hr Class Registration: $12.00
*INDIVIDUAL TICKETS WILL BE AVAILABLE FOR PICK UP AT THE BOX OFFICE ON-SITE, UNDER THE NAME OF THE PERSON WHO PURCHASED THEM. TICKETS WILL NOT BE SENT TO CUSTOMER.