Professor DR Shreiber
As a professor of natural philosophy, presenter of experimental conjuring, and exhibitor of legerdemain, Professor DR Schreiber evokes the spirit of early magical performances. His audiences experience illusion and mystery in the same way that 18th and 19th century aristocrats, nobles and elite would have seen it, in their home, mansion, or estate with a private demonstration. Professor DR Schreiber brings parlor magic back into parlors.
Professor DR Schreiber is Danny Schreiber, a Portland, OR-based magic historian, performer, and teacher of young magicians. He has performed throughout the West Coast, Canada, United Kingdom and Hungary. He is the past President and a current board member with the Portland Assembly of Society of American Magicians, a member of the Academy of Magical Arts (Magic Castle), as well as a certified mentor for the Society of Young Magicians, Salem and Portland chapters. Schreiber uses his long career as a television producer and years of working as a cast member at Disneyland to enhance the all-around entertainment experience for his audiences.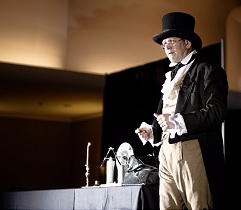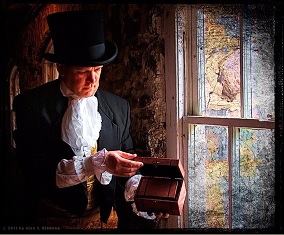 Historical Conjurering




An Exploration of Parlour Magic

March 24th, 7:15pm
The World of the Historical Conjurer

Early in the 18th century, magic (or conjuring as it was referred) emerged as a genuine art form and entertainment. Professors of natural philosophy and conjuring would rent taverns, legitimate theaters or lecture halls for the exhibition and displays of legerdemain, necromancy, or what would today be called "illusion" and "magic tricks." Top dollar would be paid by the citizens of Europe to see the latest discoveries in the science of "natural philosophy."

Today, Professor DR Schreiber presents an historic look at the beginnings of modern magic in his performances and exhibitions. Join Professor DR Schreiber as he leads you on a stroll through the past centuries of conjuring entertainment.

His unique presentations entertain while educating the audience about historical events, literary and cultural figures, and the science and art of conjuring.

Now you too can experience magic, as it was centuries ago.

ONLINE TICKET SALES HAVE ENDED: Tickets for classes and events will be for sale at the Box Office at the Seaside Civic and Convention Center during the event, (March 23-25, 2018) during Box Office Hours. Some classes and events are SOLD OUT. Check the Box Office Page to see the availability of tickets.
Tickets:
(*Individual Tickets)
General Admission Ticket(s) $10.00
*INDIVIDUAL TICKETS WILL BE AVAILABLE FOR PICK UP AT THE BOX OFFICE ON-SITE, UNDER THE NAME OF THE PERSON WHO PURCHASED THEM. TICKETS WILL NOT BE SENT TO CUSTOMER.