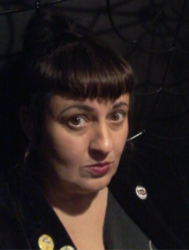 Class Description:
The class will cover a variety of topics and ways to handle them related to the things we don't normally share regarding paranormal investigations. Topics range from potty issues, hygiene, stumbling into an unexpected negative experience, walking into hoarding houses, drug dens, domestic disputes, unsafe environments, and other issues. These experiences can range from everything from eating a bad meal before an investigation to having to make the decision to call Child Protective Services. Michelle will share her experiences and what she has learned after hundreds of investigations. We'll discuss the importance of client phone interviews, preliminary investigations, how and when to take action to create a safe experience or make an early and polite exit, and when it's time to make the hard decisions. This class is directed at investigators and researchers who are doing or planning on doing mostly residential investigations but will have something to offer to everyone.
Class Outcome:
Students should leave with the confidence and information needed to handle difficult situations that can and do occur during paranormal investigations. The goal of the class is to arm investigators with knowledge and confidence in handling these unplanned and unexpected experiences.
CLASS:
The Things We Don't Talk About

(1hr)
Instructor:
Michelle "Miss B.B." Barbaria
Friday, March 23, 2018
4:00 - 5:00pm
ONLINE TICKET SALES HAVE ENDED: Tickets for classes and events will be for sale at the Box Office at the Seaside Civic and Convention Center during the event, (March 23-25, 2018) during Box Office Hours. Some classes and events are SOLD OUT. Check the Box Office Page to see the availability of tickets.
1hr Class Registration: $12.00
*INDIVIDUAL TICKETS WILL BE AVAILABLE FOR PICK UP AT THE BOX OFFICE ON-SITE, UNDER THE NAME OF THE PERSON WHO PURCHASED THEM. TICKETS WILL NOT BE SENT TO CUSTOMER.