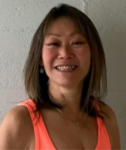 CLASS:
Traditional Chinese Medicine & Your Spiritual Health

(1hr)
Instructor:
Psychic Medium Cheri
Saturday, March 24, 2018
1:00 - 2:00pm
ONLINE TICKET SALES HAVE ENDED: Tickets for classes and events will be for sale at the Box Office at the Seaside Civic and Convention Center during the event, (March 23-25, 2018) during Box Office Hours. Some classes and events are SOLD OUT. Check the Box Office Page to see the availability of tickets.
1hr Class Registration: $12.00
*INDIVIDUAL TICKETS WILL BE AVAILABLE FOR PICK UP AT THE BOX OFFICE ON-SITE, UNDER THE NAME OF THE PERSON WHO PURCHASED THEM. TICKETS WILL NOT BE SENT TO CUSTOMER.
Class Description:
In this class you will learn tips and techniques and how to keep yourself healthy physically, energetically, and spiritually from a Traditional Chinese Medicine perspective. As a psychic medium, Traditional Chinese Medicine Medical Intuitive, and Traditional Chinese Medicine Medical Qigong Practitioner, I will choose a participant or two in the audience to demonstrate a possible healing.
Class Outcomes:
Knowledge of learning to love ourselves, growing in all aspects of your life, learning something new, and sharing what you learn to make this world a better place.