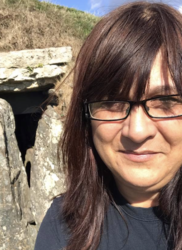 Vivien Powell
CO-SPEAKER:
Two Mediums Explore Ancient History
CLASS CO-INSTRUCTOR:
Opening Yourself to History
Vivien Powell is a natural Medium, for over 30 years, who has worked and served spiritualist churches in Greater London. She has studied at The College of Psychic Studies London and here she learned more about possession and spirit rescue. Vivien has gone on and helped people with problems in their home. Her research has taken her all over the world from India, Egypt and the US. Vivien also holds Clairvoyant Master and Tasseography & Lithomancy diplomas and also holds Consultant Clairvoyant Certificates. Vivien has run circles, Trans mediumship circles and workshops. She has also supported Tony Stockwell. Although Vivien now works in the paranormal field, trying to obtain proof of the afterlife and helping business and individuals with problem spirit, she still gives readings and talks or workshops from time to time. Vivien is the Founder of R A Paranormal & Supernatural (R.A.P.S) she is the Co-Founder of Britian's largest Paranormal Convention, Paraforce UK. Vivien not only loves helping those in need she is always researching and studying on various levels to refresh her vast knowledge in the Paranormal Field. With over 35 years in the field of the Paranormal & Supernatural element, Vivien says that she is always learning herself.
SPEAKER TOPIC:
Two Mediums Explore Ancient History
MAIN STAGE:
Friday, March 27th @ 4pm
Join British psychic Medium Vivien Powell and psychic medium William Becker as they examine some of their joint explorations of ancient sites in England. We'll travel through the early Bronze age through, Roman times, the Witch Finder General and more. Two mediums working together to see the past!