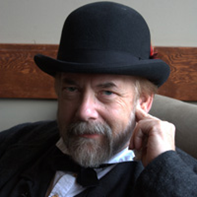 William Becker
SPEAKER:
Haunted History
With his bachelor's degree in history and master's in public administration, William combines his love of history and his psychic abilities to allow people inside the deeper reality that surrounds us. His philosophy is that the more we know of the beings and worlds around us, the better we know how to more fully experience and live this life.
A paranormal enthusiast and experienced paranormal investigator, William combines his love of history and psychic abilities to allow people inside the world of ghosts, hauntings, and other paranormal realms with his Haunted Hotspots events, Finding your Psychic Voice classes, Past and Between life and other readings.
William is an author, has been interviewed on several paranormal radio shows both in the U.S. and abroad, has his own magazine column and Youtube channel, and has been interviewed by state wide and local newspapers. His work promotes the respectful communication and understanding of the beings and worlds around us.

William provides his services in person, as well as by telephone, email, or Skype. He also gives location and other readings remotely. Services are available for groups or on a one-on-one basis. Visit his web site at: www.paranormalinsights.net.
His most recent book is "In the Footsteps of my Forebears: A Psychic Journey Through Time". Join William as he travels deep into the areas his forebears colonized in the 1760s at the behest of Czar Catherine the Great of Russia. He takes the reader through the impressions that still present themselves in these remote areas, and includes visits with his own passed ancestors. Enjoy the journey as the past and its people come alive!
SPEAKER TOPIC:
Haunted History
MAIN STAGE:
Fri
d
ay, March 29th @ 4:00pm
Examine some of the links between the paranormal and history and how to make the past come alive! We'll start with some of the locations and ghosts of Oregon City, the home town of the Oregon Ghost Conference, then include other locations around the world. We'll conclude with ideas on how to make your own town's history come to life!