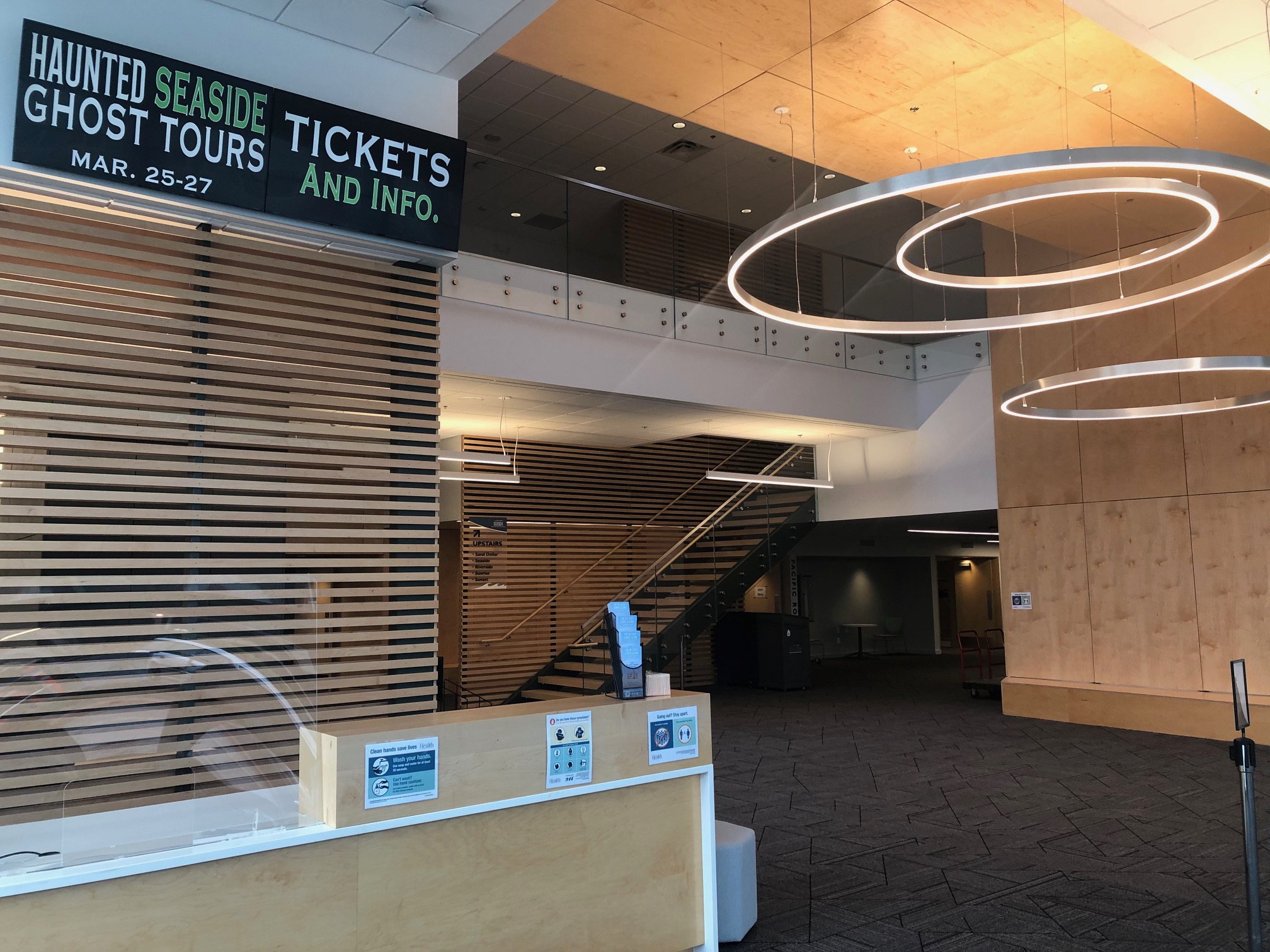 Oregon Ghost Conference Box Office
2019 Box Office Hours:

Friday, March 29th:
3pm-7:15pm
(Open at 1pm for Vendor, Speaker, Instructor and First Class Pass Check-In)
Saturday, March 30th:
8:30am-7:15pm
Sunday, March 31st:
8:30am-4:00pm

(Open till 5pm for Vendor, Speaker and Instructor Check-Out)

Holly Swogger and Angela Smith

Box Office Managers
TICKETS
2019 TICKETS ONSALE NOW!
Before purchasing tickets for Classes, Evening Shows or Ghost Tours, we highly recommend that you make a plan by looking at the 2019 Schedule so you can decide how you want to spend your time.
ONLINE TICKET SALES HAVE ENDED: Tickets for classes and events will be for sale at the Box Office at the Seaside Civic and Convention Center during the event, (March 23-25, 2018) during Box Office Hours. Some classes and events will SELL OUT. Check the BELOW to see the availability of tickets:
Oregon Ghost Conference General Admission

Access to Vendor and Speaker Areas All Weekend Long!

General Admission Ticket: $10.00 (Ages 12 & Under Free)
Friday, March 29-Sunday, March 31st
(TICKETS AVAILABLE AT THE CONVENTION CENTER DURING BOX OFFICE HOURS)
MINI-EVENT
:
Séance
(2hr)
Host:
Yitzhak Schlomi
Friday, March 29, 2019

7:15 - 9:15pm

Mini-Event Registration: $15.00

SOLD OUT!
BUTTON5
GHOST TOUR
:
Downtown Seaside & Broadway Tour
(1.5hr)
Guides:
TBA
Friday, March 29, 2019

7:30 - 9:00pm

Ghost Tour Registration: $15.00

(TICKETS AVAILABLE)
BUTTON8
INVESTIGATIONS
:
Friday Night* Investigation
Hosts:
TBA
Friday, March 29, 2019*

*(Friday night = early Saturday morning 3/30/19)

1:00am - 3:30am

Ticket: $25.00

(TICKETS AVAILABLE)
BUTTON10
CLASS
:
Crystal Alchemy
(2hr)
Instructor:
Karen Frazier
Saturday, March 30, 2019

5:00 - 7:00pm

2hr Class Registration: $20.00

(TICKETS AVAILABLE)
BUTTON27
GHOST TOUR
:
Downtown Seaside & Broadway Tour
(1.5hr)
Guides:
TBA
Saturday, March 30, 2019

7:30 - 9:00pm

Ghost Tour Registration: $15.00

(TICKETS AVAILABLE)
BUTTON30
GHOST TOUR
:
Downtown Seaside & Broadway Tour
(1.5hr)
Guides:
TBA
Saturday, March 30, 2019

9:30 - 11:00pm

Ghost Tour Registration: $15.00

(TICKETS AVAILABLE)
BUTTON32
INVESTIGATIONS:
Saturday Night* Investigation
Hosts:
TBA
Saturday, March 30, 2019*

*(Saturday night = early Sunday morning 3/31/19)

1:00am - 3:30am

Ticket: $25.00

(TICKETS AVAILABLE)
BUTTON33
SUNDAY, MARCH 31st, 2019
CLASS
:
Shadow Work
with Tarot
(2hr)
Instructor:
Jason Masuoka
Sunday, March 31, 2019

9:00 - 11:00am

2hr Class Registration: $20.00

(TICKETS AVAILABLE)
BUTTON34
CLASS
:
Stories in Stone
(2hr)
Instructor:
Ross Allison
(Instructor Change)
Sunday, March 31, 2019

9:00 - 11:00am

2hr Class Registration: $20.00

(TICKETS AVAILABLE)
BUTTON35
FREE EVENT
:
A Place of Peace & Healing
(2hr)
Instructor:
Ankhasha Amenti
Sunday, March 31, 2019

10:00 - 11:00am

1hr Event: FREE

(This event is being offered for FREE* by Ankhash Amenti for the first 32 people in line outside of the Sunrise Room.)
BUTTON37
MINI-EVENT
:
Séance
(2hr)
Host:
Yitzhak Schlomi
Sunday, March 31, 2019

3:00 - 5:00pm

Mini-Event Registration: $15.00

(TICKETS AVAILABLE)
BUTTON45
GHOST WALK:
Astoria Ghost Walk
(1hr 30min)
Guide:
Jeff Davis
Sunday, March 29, 2019

5:00pm - 6:30pm

Ghost Walk Registration: $15.00

SOLD OUT!
BUTTON7