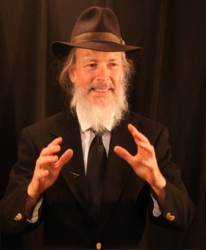 CLASS:
The Use of Mysticism in Sensing Ghosts

(1hr)
Instructor:
Yitzhak Schlomi
Sunday, March 25, 2018
2:00 - 3:00pm
ONLINE TICKET SALES HAVE ENDED: Tickets for classes and events will be for sale at the Box Office at the Seaside Civic and Convention Center during the event, (March 23-25, 2018) during Box Office Hours. Some classes and events are SOLD OUT. Check the Box Office Page to see the availability of tickets.
1hr Class Registration: $12.00
*INDIVIDUAL TICKETS WILL BE AVAILABLE FOR PICK UP AT THE BOX OFFICE ON-SITE, UNDER THE NAME OF THE PERSON WHO PURCHASED THEM. TICKETS WILL NOT BE SENT TO CUSTOMER.
Class Description:
Practising Jewish mystic Yitzhak Schlomi interactively demonstrates how to apply the concepts of Jewish mysticism to sense ghosts and spirits. Using the "Hitbonenut", an ancient form of Jewish meditation, we will elevate your "Nefesh" (life-breath aspect of your living spirit), increasing your perception of other spirits. This class includes a high degree of group participation and interaction.
Class Outcome:
Attendees will be introduced to terminology and concepts in Jewish mysticism relating to self-spirituality and interacting with ghosts and spirits. You will be lead through the "Hitbonenut", a form of Jewish meditation, and experience interacting with an aspect of your own living spirit, and the other attendee's living spirits. These exercises should be considered a demonstration of how to interact with other spiritual essences.