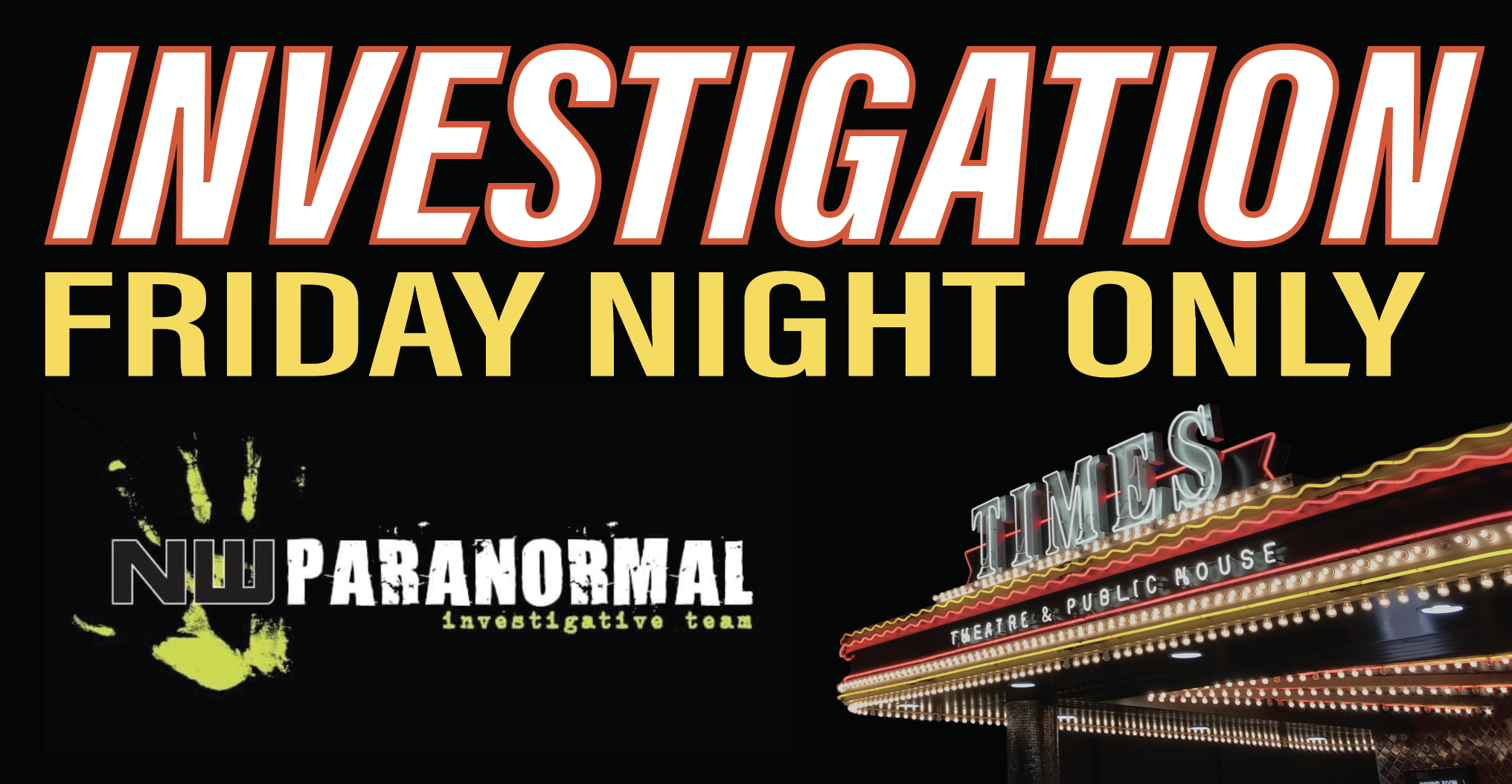 INVESTIGATION AT THE TIMES THEATRE
Exclusive Event - Friday Night Only!
(Only 20 Tickets Available)
Due to the limited space Investigation tickets are NOT included in the FIRST CLASS PASS and must be purchased separately.
We recommend buying tickets ASAP, because this will be a sold-out event-
(Guests will be required to fill out a waiver form.)
During this investigation we will be separating into 2 groups of 10 people on-site and will rotate the groups to two different areas of the theater for the investigation. 1) Times Theatre auditorium and bar area on the first floor, 2) Times Theatre lobby, stairs and balcony on the first and second floor. Attendees are encouraged to bring their own equipment; limited equipment may be available to share. (This event is limited to persons 21 and over only)
The Times Theatre is a historic venue that was originally built in 1940.
*(Friday night 3/27/20) = Early Saturday morning 3/28/20)
Friday Night*

Investigation



Times Theater & Public House

With Experienced Paranormal Investigators from NW Paranormal Investigative Team.


12:00am-2:00am

(*Early Sat. Morning)

Adults (21+) $25.00

Investigation will start and end at the Times Theatre at

133 Broadway Street, Seaside, Oregon 97138.

Tickets: (Only

20

Available)

Adults (21+) $25.00

(*Individual Tickets)

*INDIVIDUAL TICKETS WILL BE AVAILABLE FOR PICK UP AT THE BOX OFFICE ON-SITE, UNDER THE NAME OF THE PERSON WHO PURCHASED THEM. TICKETS WILL NOT BE SENT TO CUSTOMER.